Fully automatic traffic cone
Management system

WE CREATE SAFETY
AT THE HIGHEST LEVEL
Road safety is a very important and responsible issue for us. For more than four decades, we have been aware of this responsibility and have been active and leading in the field of traffic engineering.
Through our products and services, we create the conditions for our customers to work and be safe at the highest level. Quality is our top priority.
Our goal is to delight our customers with the quality, innovation and consistency that characterize our products and services.
To get there, we consistently implement our principles and values and work continuously on optimization and further development.
That's what sets us apart.
Our core activities include development, production, consulting, supply and installation of products for traffic safety as well as traffic infrastructure. By using the latest technologies and innovative developments, we contribute to the continuous improvement of safety on roads worldwide.
Well-trained, high-performing and motivated employees are the source of our success. We are constantly working with them to improve our workflows and processes. Respect, mutual appreciation, reliability,
The satisfaction of our customers is a special concern for us. We offer our customers high quality and innovative products as well as optimal advice and service in our services for a fair, performance-related price.
Lean structures and ongoing product innovations ensure our customers' high standards of quality and flexibility. A sense of responsibility and handshake quality are binding values for us in our daily dealings.
We are your competent partner in all matters of traffic engineering.
The company's goal is to continue to be a reliable and competent partner as well as a problem solver in all matters relating to traffic safety.
By focusing on our key areas (TECH, WORKZONE; INFRA and CITY DESIGN) we have laid an important foundation for the right development. Driving this forward will be of central importance to us in the coming years.
In addition, however, we are also striving to expand our business activities internationally in the service of road safety.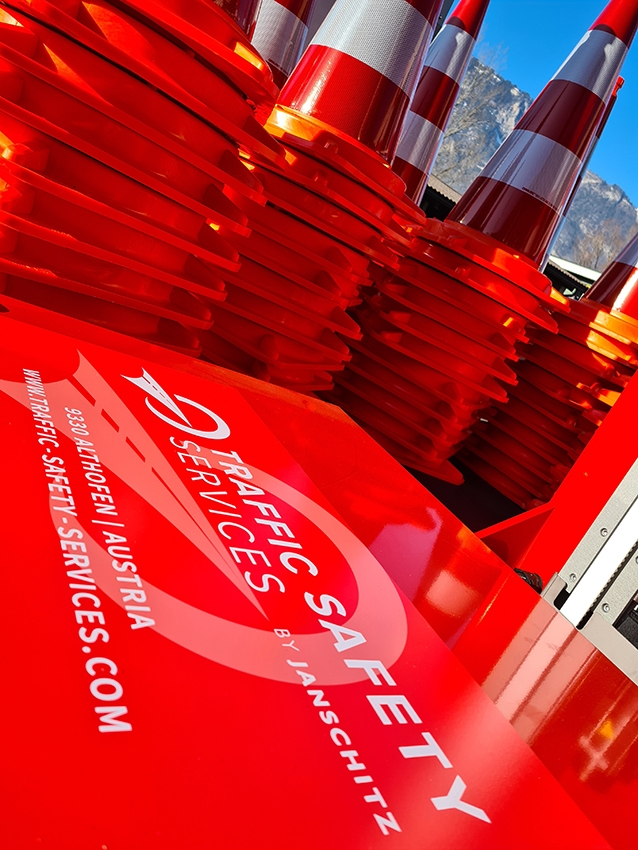 Innovative – Qualitative – Service-oriented – Road safety